Sáenz, B. A. (2014). Aristotle and Dante discover the secrets of the universe. New York, NY: Simon & Schuster. ISBN 13:978-1442408937. Paperback. $7.04.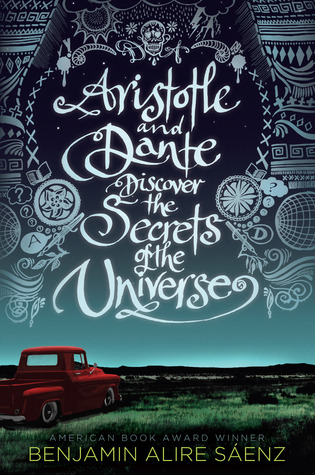 Annotation: For a long time Ari has known how different he is, but never wanted to discover any more about himself until he meets Dante. In a world and culture where homosexuality can be taboo Ari tries to navigate whether or not he deserves Dante and if Dante deserves him.
Aristotle and Dante discover the secrets of the universe is about to guys, Ari & Dante. Ari is a loner, a teenager trying to figure out who he is while keeping everyone at arm's length. Ari has never felt like he belongs and has always felt uncomfortable with other boys. His Latino culture feels unaccepting as well even though he knows his family loves him, sometimes he wonders if they would change their minds. When Ari meets Dante, he sees quickly how different they are. Dante makes Ari see the world differently and becomes Ari's best friend. Both grow together and discover the love they have for each other, which is one of the secrets of their universe.
Awards: Stonewall Book Award for Children's and Young Adult Literature (2013), Michael L. Printz Award Nominee (2013), Pennsylvania Young Readers' Choice Award Nominee for Young Adults (2015), Lambda Literary Award for LGBT Children's/Young Adult (2013), Deutscher Jugendliteraturpreis Nominee for Jugendbuch (2015), Amelia Elizabeth Walden Award (ALAN/NCTE) Nominee (2013), Lincoln Award Nominee (2016), Pura Belpré Medal for Narrative (2013).
The audio book is read by Lin-Manuel Miranda, the man who wrote the Broadway blockbuster Hamilton and In the Heights, in case you need something beautiful to listen to. Here is his tweet announcing his recording of Benjamin's book:
Over the break I narrated an audiobook. You can hear the first 9 minutes on Soundcloud. Lemme read to you, fam! https://t.co/ochaPWunyS

— Lin-Manuel Miranda (@Lin_Manuel) April 3, 2013
//platform.twitter.com/widgets.js