Reynolds, J., & Kiely, B. (2015). All American boys. New York, NY: Turtleback Books. ISBN: 978-1481463348. Paperback. $7.32.
Annotation: In a world most people see as black and white Rashad and Quinn actually have a lot in common except for the color of their skin. When Quinn witnesses Rashad getting beaten by the police at the neighborhood bodega, their two points of view not only become pivotal in court, but in living with themselves.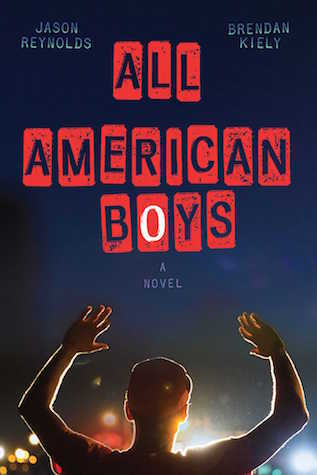 Why did Rashad go to the bodega that night? Just to get a bag of chips. And that's how it innocently starts: an African American teenager goes to the corner store. The next thing Rashad knows, the cop continues to punch him to the floor. Rashad can't tell the cop he wasn't stealing, he can't catch his breath. Quinn is the white teenager who witnesses it all. But what does he say? "I had nothing to do with it" or "I don't know how it started." All he knows is that the world is watching the story unfold and truth and lies become their own monsters. At this point all Rashad wants is for people who tell him "Don't talk about it" to hear him when he says "racism is real". The first step is admitting there is a problem, otherwise how else can we change?
All American boys address more the sides of racism, we are all too familiar with today. With writing from two different perspectives of two different authors, the book is beautifully, painfully written to show that without acceptance there is no change or progression. Teens who enjoy The Hate U Give by Angie Thomas would also like All American boys because they both deal with real issues and give an intimate voice to the Black Lives Matter movement. I would recommend teachers use this book as an option for summer reading criteria. The book is a standalone, and cheaper for a paperback copy than the ebook. I personally bought a copy so I could take notes in it for my own personal growth in writing.
(PS: The audiobook is great with two actors for the two narrators).
Awards List: Pennsylvania Young Readers' Choice Award Nominee for Young Adults (2017), Keystone to Reading Book Award Nominee for High School (2017), Evergreen Teen Book Award Nominee (2018), Milwaukee County Teen Book Award Nominee (2017), Lincoln Award Nominee (2018), Coretta Scott King (Author) Book Award Honor (2016), Walter Dean Myers Award (2016).
Here are the links to Jason's Instagram & Brendan's Instagram so you can keep up with their lives and writing progress!
Do you think it was important that All American Boys was written by two authentic perspectives? (Wink, wink: it's super important).