Bhathena, T. (2018). A girl like that. New York, NY: Farrar, Straus & Giroux.
ISBN: 9780374305444. Hardcover. $17.99
Annotation: Zarin is the girl who is talked about because she is always with too many boys or doing other things no respectable girl would do, but Porus still has a crush on her. When Zarin & Porus are found dead on the side of the road, their family and friends will discover more about their lives and even about their enemies.
*I swear some of this will seem like spoilers, but that content is all in the book description*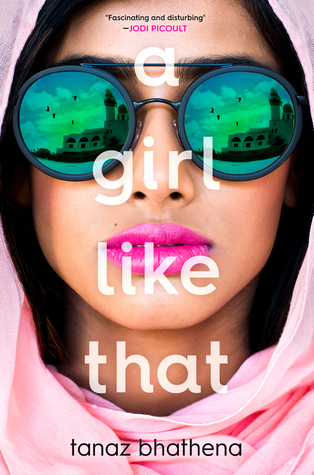 In Jeddah, Saudi Arabia Zarin Wadia is one of those girls. A troublemaker. She dates too many boys and is always gossiped about at school. Porus Dumasia doesn't care about what's said about Zarin, and he says, "Love is always the answer when things go wrong." But how do Zarin & Porus wind up dead on the side of the road in what looks like a car accident? Through multiple points of view, including Zarin and Porus, we learn how the two died and why their lives, even after death, matter. Zarin was an orphan and brilliant student. Porus, a fiercely loyal and wise teenage boy. As their lives unfold and reveal to be intertwined, can their friends and family learn from them?
I picked this book to review this week because it is about the Saudi Arabian culture, I, as a US citizen, hardly know or am used to it being characterized with stereotypes and negativity. I also find there isn't much Muslim representation in teen novels with Muslim narrators or authors that have the authority to write such characters and topics. That being said, this story is heartbreaking, but beautifully written. It tackles issues with race, identity, religion, rape culture and abuse among other things. It's also brilliantly and gracefully written. One of the quotes is "Sometimes, life does not go the way we want it to and we can't really change that. But it doesn't matter as long as we have someone to love us. Love is more important than anything else in this world. And you deserve love just as much as anyone else." I also picked this book because I know many of my teen students who adored John Green's novel The fault in our stars would love this book. The multiple points of view really adds to the quality of the story and characterization of both Zarin & Porus. I highly recommend that this book is purchased by libraries, and since it will come out in hardback it would be a great way to suggest teens check it out at the library with it's higher newly released price.
Awards: TBA
Here is Tanaz's Instagram, Author page, & Goodreads page. Tanaz has won quite a few short story awards including the MARTY award in 2009. With that award, she was able to become a published author.